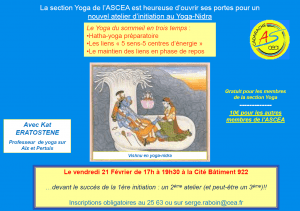 La section Yoga de l'ASCEA Cadarache est heureuse d'ouvrir ses portes
pour un atelier d'initiation au Yoga-Nidra
Le Yoga du sommeil en trois temps :
Hatha-yoga préparatoire

Les liens « 5 sens-5 centres d'énergie »

Le maintien des liens en phase de repos
  Le vendredi 21 février de 17h à 19h30 à la Cité Bâtiment 922
 Venez nombreux pour cette séance découverte !!
 Gratuit pour les membres de la section Yoga
————-
10€ pour les autres membres de l'ASCEA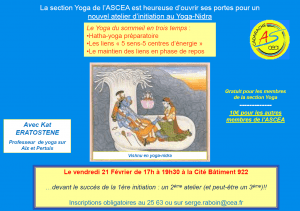 Yoga section of ASCEA Cadarache is pleased to open its doors
for an introductory workshop on Yoga Nidra-
Yoga sleep in three stages :
Preparatory Hatha Yoga

Links "5 senses-5 energy centers"

Maintaining links in the resting phase
Friday, February 21 from 17h to 19h30 at the City Building 922
Come to this discovery session !
Free for members of the Yoga section
————-
10€ for other members ASCEA